"I want to ride a motorcycle" are probably the words from the kids that most parents would fear. However, motorcycle is not always as frightening as it seems. You would still be a good father while granting your kid's wish to get a bike. In general, if you show your child the right way, he or she could have a lot of fun whilst being safe and practical. The following are 5 things that you could do to keep your child safety with a motorcycle:
Do not fight an unwinnable fight
If your kid strongly determine to get a bike, then you would need to hear his or her out. If your teenager has made a sensible plan for the motorcycle and it is not just some passing craze, then you should rather let him get the motorcycle now. After that, you can guide and supervise his use when you would have no input. In addition, denying the wish of your child would imply that you do not trust him with the responsibility, which would not develop trust between both of you in these precarious years of teenager.
Set some guidelines at the beginning
You would not be able to keep your kid from riding a motorcycle forever, but while he still lives under your roof, you could set boundaries. For instance, you should not allow him to ride a bike in difficult highways and roads or when it is too dark outside. Also, you need to be sure that he rides a safe motorcycle as well as pick up the suitable accessories to ensure the overall safety. For instance, if your kid carries a passenger, it would be sensible to buy a sissy bar backrest to keep the safety for that passenger.
Make sure to teach him good habits
As you present constantly in the life of your child, that would be a good position to teach him good habits. For instance, you should make sure that he wear suitable clothing and the top rated motorcycle helmet, or he needs to ride seriously on the road. By reminding your child about those necessary safety guides constantly, you can be sure that he will always ride a motorcycle in the safest way as possible.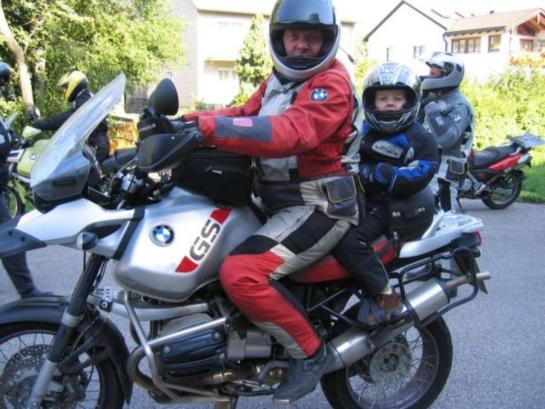 Again, bear in mind that you would not always be in that influential position, this is why it must be better to let him start riding at the young age. By doing that, you will help to develop good habits at him.
Do not treat your child with too much care
If you're the age of your child is legal to ride a bike, then he is no longer a kid at all, but a young adult. As she or he ages, an important way to strengthen the relationship and build trust between you and your kid is to treat him or her as a young adult. However, it is also necessary to make sure that he or she will respect you: if you set a boundary, you child must respect it. In other words, if you could find out a proper compromise for both of you, it will be happy for all.
Learn about riding yourself
The best way to advise your kid is to learn about riding yourself. In fact, you could not truly teach him or her about motorcycling if you do not actually acquire some knowledge on this subject. Thus, you should read up some useful facts and take a class about motorcycling so that you would be prepared when your child asks any questions.